The latest fad in Reykjavik is opening up a ice cream shop offering Italian style gelatos. The other day we tried out a new ice cream parlor called Paradís. It is just off the city centre and it is safe to say it is well worth a visit.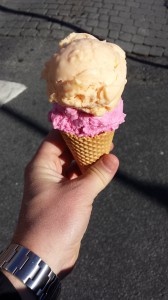 Is it better than Valdís you might ask?
Well, I think both are great. They are a bit similar, offering a pretty varied selection of sorbets and ice cream. But being from Akureyri in the north of Iceland I just really love Brynja ice-cream!
How to get there?
Paradís Ice Cream Parlour is on Njalsgata 23, just east of the city centre.
Ready for a Road Trip in Iceland?
Support this blog by getting a great deal on renting a car from Budget.
Comments