Reykjavik has most things you would like in a European city, there is a lot of culture and art. One crucial piece in the cultural puzzle, which has been missing until now is a cabaret and burlesque scene.
One entrepreneur and her friends are responsible for bringing this venerable and slightly naughty art to Reykjavík. Margrét Erla Maack and her crew in Reykjavik Kabarett regularly transform the basement of a small bar in central Reykjavík called ´The Green Room´ into a cabaret theatre which rightfully should have been situated in Berlin during the roaring twenties. Next week will be their last shows at that location, the venue becoming too small for their budding cabaret scene. In the next months we will see performances in Café Rósenberg and Kex hostel, and in the fall the Cabaret will have shows in Leikhúskjallarinn, the basement of the National Theatre.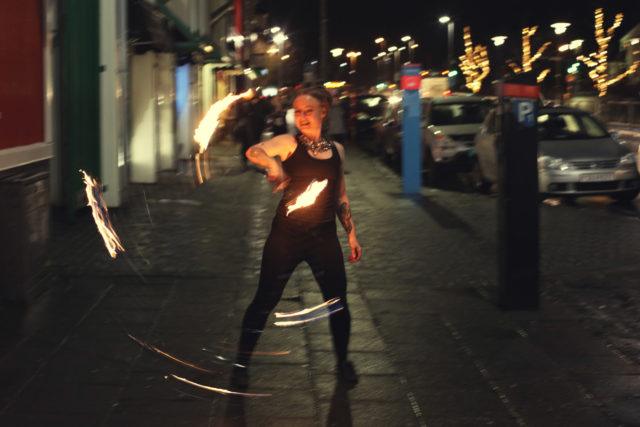 It is noteworthy that the performers are a mix of international and local talent. It is safe to say that pundits don't have to speak or understand Icelandic to enjoy the shows. After all, it is all about the music and the visuals. The shows by Reykjavik Kabarett are filled with roaring humour, refined erotica and all the joy one evening can include.
Margrét is a personal friend of ours. Burlesque is just one of her many talents. She has been a TV presenter, Radio personality, dance teacher (e.g. a personal Beyoncé dance teacher to the Germany´s male handball team), columnist and was instrumental in founding Sirkus Íslands, Iceland´s first professional circus which in 2013 crowdfunded Iceland´s only Circus-tent and has toured with it since 2014. Her stage name is Miss Mokki, which of course reminds one of the fact that the performer and the regular person are two different beings.
What made you interested in burlesue and cabaret?
In 2007 I had my heart broken and won the lottery in the same week. With a broken heart and what was like a three month salary I decided to heal in New York and take masterclasses in belly dance. Little by little I got to know people there, mostly through karaoke and going to standup. I met Reggie Watts and he got me a gig at The Box as a belly dancer, I got several gigs there and got hooked on the variety aspect of entertainment. When I moved back to Iceland Reggie insisted I would drop out of University. A week after I got back, I saw an ad at Kramhúsið dance studio, where i teach, about free circus classes on Sundays. I was like YESSSS THESE WILL BE MY PEOPLE. That was the beginning of Sirkus Íslands, the first and only circus in Iceland. I got a permission from my circus daddy to produce shows outside of circus operation times, because they have an adult show, Skinnsemi, that has a similar feel to what we're doing.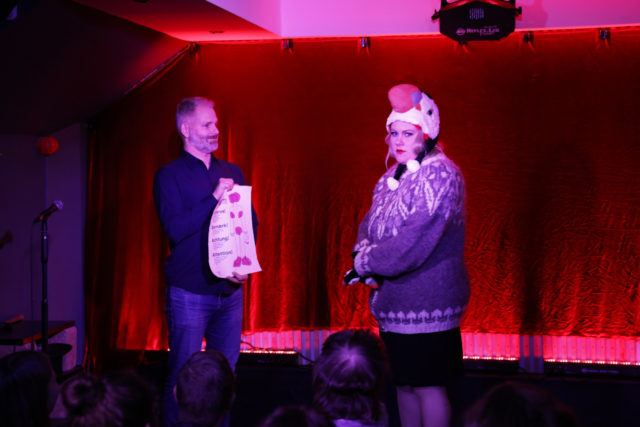 You seem to be one of those highly entrepreneurial people which are constantly creating new things. What is the reason for your drive in doing this?
I love it when people try to tell me "that will neeever work in Iceland" because I've always proved them wrong. The circus and Reykjavík Kabarett are a good example. It also has to do with the fact I think Reykjavík has so much more room for entertainment. Take Seattle, a city of 600.000 people. Last time I was there I could easily find information about 9 variety shows, burlesque and drag in one week when I was there. That means that Reykjavík could easily carry 1-2 shows a week. And we'll get there, slowly.
You have great success in getting international talent to perform here in Iceland. Is it a hard sell to get the artists to come to Iceland?
Oh no. All of them are my friends I've gotten to know when I have travelled as a show girl, mostly from The Slipper Room in New York, where I perform several times a year. Since the scene is so new here I want to provide good things, so I seldom book acts I haven't seen or know personally. Most of them are already doing Europe tours, and stop here on their way to there or back home (thank you airlines for this stopover thing). My house turns into a cabaret commune around the times we have shows! Everyone wants to come to Iceland and to be able to score a place to stay and a decent pay are what lures them here. I've never had to convince people, they have always approached me. And I am proud to say we've lined up guest artists until January next year.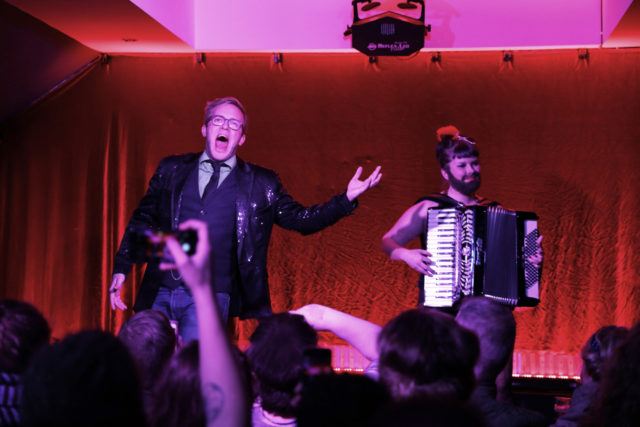 The Green Room is right in the center of Reykjavik, what other places do you recommend there? Think of restaurants and bars which would be a part of a cabaret themed night out?
Green Room is great, but it's becoming too small for us, so the April shows will be the last ones there. We will be trying out places, doing Rósenberg and Kex in June, and The National Theater basement in November.
I would start with happy hour on Hotel Holt. Then cocktails and pizzas at Hverfisgata 12, the pizzaplace with no name. The food, decor and athmo is simply great. On the second floor of the same house there is Mikkeller beer bar, with a carnival themed décor.
The scenes here are small, so unfortunately there is not a lot of variety offers YET. I'd either go and see some comedy, look up Bylgja Babylóns or Jonathan Duffy and see if they are doing stand up in English. Rósenberg has great, intimate concerts with a good variety. If you are super lucky you can see the monthly Dragsúgur show – they are a great drag community. Improv Iceland will do weekly shows this summer in Tjarnarbíó and they are great too. In 3-4 years I could give you a whole list of places with variety entertainment, but we're not there yet.
Do you have a favorite place here in Iceland?
101 Reykjavík where I live and breathe. I worked in Mývatnssveit as a teenager and that place has a special place in my heart. If you're talking place place: Hverfisgata 12. Good music, great drinks, divine food. I eat there 2-3 times a week.
On a final note, do you have any advice to travelers coming to Iceland?
Splurge on Icelandic fashion, you won't regret it. Book the Blue Lagoon in advance. Layer up for the unpredictable weather. Icelanders are not easy to f***, if you have problems getting laid in your own country, you'll also have that problem here. Wash yourself properly before going into the Blue Lagoon and the swimming pools. Everything is expensive here, we hate it just as much as you. Fish of the day during lunch time is usually a steal and always good in Snaps, Kopar, Apótek and Sjávargrillið.
And yes, thanks for the delightful naughtiness Margrét!
Comments