Iceland is renowned for it's bountiful fishing rivers and every summer people from all over the world visit us only to experience the tranquil pleasures of fishing in Iceland.

If angling is your sport you can easily find fishing to suit your taste and location. And if you are on the lookout for something really special, Jökla and it's tributaries could be just the thing for you.
Not so long ago Jökla was a raging, muddy glacier river. In fact it had the greatest density of silt of any river in Iceland. But since the erection of the controversial Kárahnjúkar hydro electric powerplant it now runs clear most of the summer.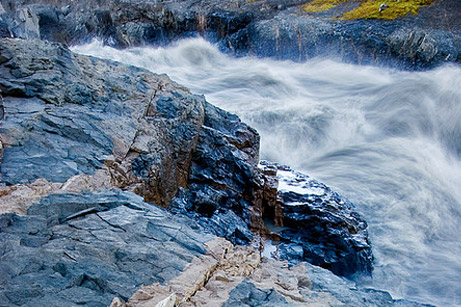 In 2013 we can expect anglers of all shapes and sizes to catch up to 400 salmon's from Jökla and it's tributaries. And whats more this former glacier river offers some spectacular places to fish from. Just take a look at the following video and you'll see what I mean.
Salmon fishing licences can be quite expensive in Iceland but if you contact mr. Þröstur Elliðason (ellidason@strengir.is) who holds the licenses to Jökla and mention Stuck in Iceland he'll make you a good deal.
How to get there
Jökla is situated about 660 km from Reykjavík, a 8-10 hours drive. You can also travel to Egilsstaðir by air (about an hours flight from Reykjavík) and from there it's a short drive (about 40km).
Photo of Jökla curtesy of: Jón Baldvin Hannesson
Author: S.Fjalar
Ready for a Road Trip in Iceland?
Support this blog by getting a great deal on renting a car from Budget.
Comments