One of the best ways to experience a glacier up close and personal in Iceland is probably to explore the Sólheimajökull glacier that sticks out of the Mýrdalsjökull glacier. Incidentally, the Mýrdalsjökull ice cap covers the mean and mighty Katla caldera, a fierce volcano that  will one day erupt with fearful consequences. Just think massive floods and horrendous amount of pumice and ash.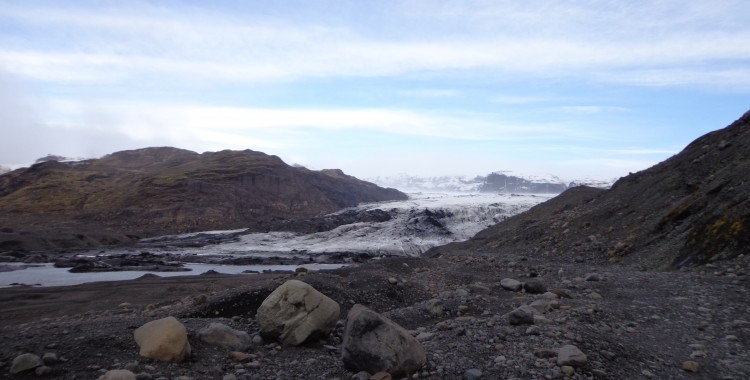 Well enough about Katla for now. A trip on  Sólheimajökull glacier is a quick lesson in geography and global climate change. The dynamics that shape the movement, volume and shape of glaciers is on plain display. The most striking thing about Sólheimajökull glacier is how it is shrinking and retreating. Indeed, in can be called the incredibly shrinking glacier. It has retreated about a kilometer in the last decade and since the bottom of the glacier is below sea level it will probably leave a lake or a lagoon behind it. You can see the ground which the glacier used to cover since it is either covered by water (the beginnings of the lake or lagoon) or really rough stony ground. A bit further, green shots of grass are starting to make the land a bit more pleasant.  The glacier is still a lot bigger than during the Viking age settlement when Iceland was a lot warmer greener place. It thickness is about 250 meters and at the core at the top of Mýrdalsjökull glacier, the ice sheet is about 700 meters thick.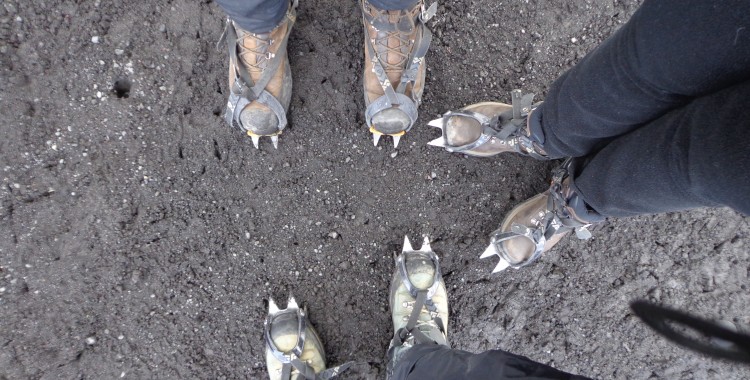 Sólheimajökull glacier has a wonderful otherworldly landscape full of ice ridges, frightful looking sinkholes, streams running across the ice, and lines of ash in the ice revealing the incredibly many eruptions Iceland has experienced throughout millennia. It is sometimes covered with sand or ash from past eruptions. Indeed, whole ridges are covered with a  layer of dirt.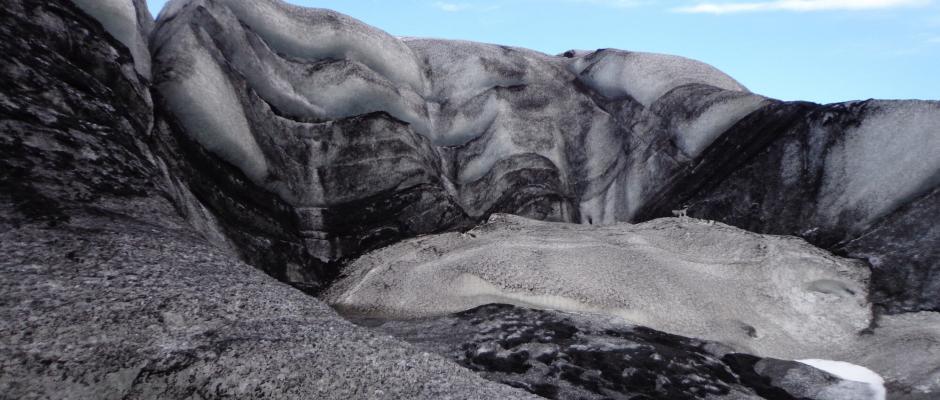 Sólheimajökull glacier is really accessible compared to other Icelandic glaciers. The road to Sólheimajökull glacier from the main road is actually "not that great" -in fact it is pretty miserable stretch of tire-puncturing gravel road full of potholes and large rocks. Our Toyota Yaris navigated it pretty well but if you are driving a rental car make sure you are allowed to go there.  Once I drove this road on a Ford Focus C-Max and since that car is a lot more at home at German autobahns rather than Icelandic gravel that was a rather interesting experience!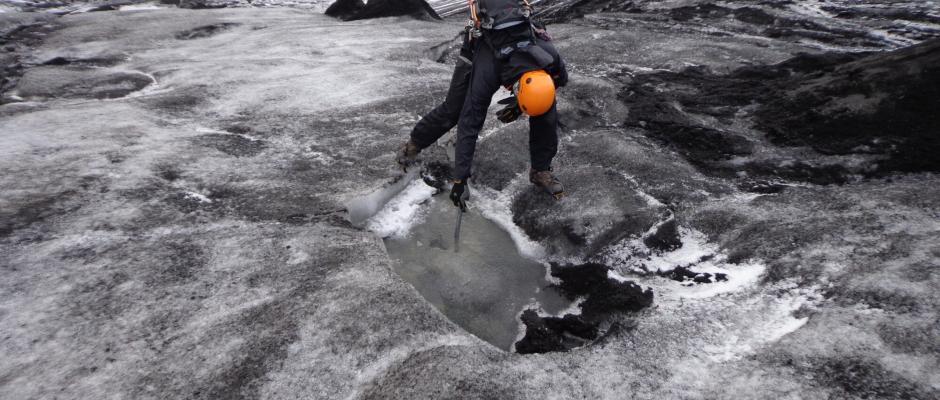 The walk up on the glacier is pretty easy compared to other glaciers but the key thing for an enjoyable and safe journey up there is to have a good guide that knows his or hers stuff about the facts about the glacier and the safety issues. I would advice everyone against go on an Icelandic glacier unless you have the proper equipment and an experienced guide. Never ever go there alone.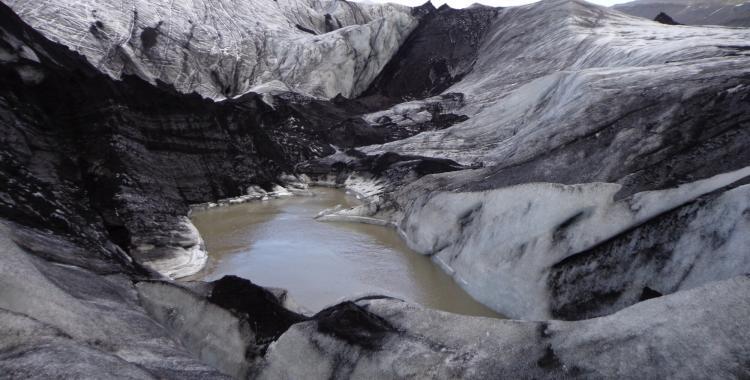 How to get there  
I suppose a lot of companies will be happy to take you up there but I had the good fortune of having a great guide from Arcanum Glacier Tours with me. Stuck in Iceland is not affiliated with Arcanum in any way.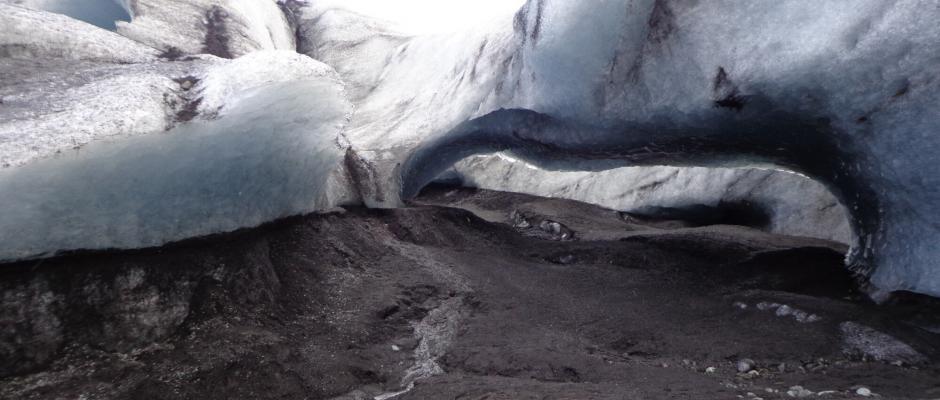 If you just want to go to the edge of the glacier and you have a car that handle a rough gravel road and you are allowed to take off the main roads (many car rental companies forbid such adventures so you forgo your insurance) proceed along highway 1 until you reach the turn to road nr. 221. Bear in mind that the gravel road up to the glacier is awful but apparently they are building a new one. The video below is us driving away from the glacier to the main road on our trusty Toyota Yaris. Epic drive.
Stay safe!
Never go on an Icelandic glacier on your own, no matter how safe it looks. Have an experienced guide with you at all times with the proper equipment. Always do what the guide tells you to do and do not wander off. If you fall into a crevice or a sinkhole that may lurk beneath a cover of snow or thin ice you might not see the light of day again. Do not go under the roof of ice tunnels at the edge of the glacier. These may collapse at any time without warning. If you are underneath those when that happens  you will die instantly. 
Written by Jón Heiðar Þorsteinsson
Comments