Everybody loves Santa Claus. That jolly "big boned" fellow that zooms across the continents on his sleigh to give us presents is obviously a welcome guest to most. But Icelanders have a lot darker Christmas tradition and Icelanders being Icelanders, it is a bit weird as well.
The "Yule lads" come of course from a dysfunctional family 
The thing is, Icelanders don´t have one "Santa Claus," we have at least 13 "Yule lads." And originally, those guys were bad to the bone. They were the offspring of hideous cannibalistic trolls. They stole scarce food. Frightened children with malicious pranks. Their mother was Gryla, a troll who loved to snatch, cook and eat naughty children to feed her lazy troll of a husband Leppaludi. They were associated with the "Yule Cat" – a horrible monster that would come and kill those who did not have a new piece of clothing for Christmas. This legend of the Yule Cat is the reason why I always, and I mean always, buy a new shirt which I wear on Christmas eve.  Otherwise I worry that the damned cat will catch me alone and tear me to pieces.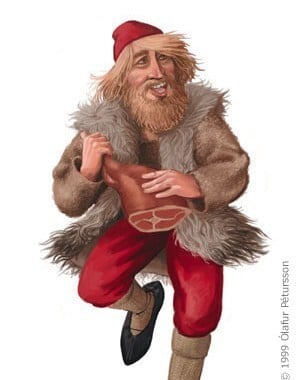 The past is dark, even at Christmas
First mention of "Yule lads" is from the 16th century but their parents have an older history, perhaps dating back to the 13th century. Originally the number, the nature  and the names of those miscreants varied according to where you were in Iceland. But with time there was a general agreement that those horrible guys were thirteen. The total number of names for "Yule lads" is around 70. These days they are pretty nice and are the joy of Icelandic children before the Christmas. But in Iceland the past is dark, marked by abject poverty and lack of food, light and heat. The best way to understand the legend of the ancient and malicious Yule lads, their parents and obnoxious pet is to see them in that context.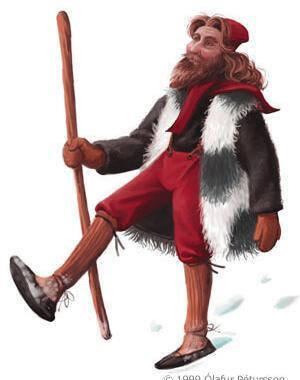 The long list of misdeeds
So who were those guys anyway? They would start to show up at the isolated farms around the country, one by one, thirteen days before Christmas and cause all of sorts of trouble. The first one to arrive was Stekkjastaur (Enclosure Post). He had really stiff legs so his way of walking was apparently a bit strange. This disabled "Yule lad" was despised as he made it his habbit to suck the milk directly from the udders of sheep thus stealing valuable source of food.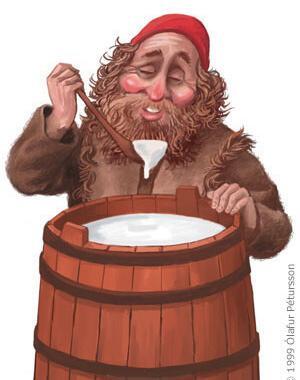 His brother Giljagaur (Crevice Imp) had a penchant from stealing cream and milk from the cowshed. The midget sized Stúfur (Itty Bitty) was the third to  arrive. He had the thing for the burnt morsels of food that stuck to pots and pans.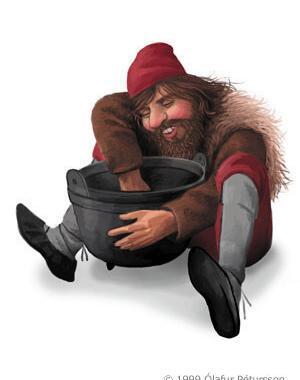 Number four was Þvörusleikir  (Pot Scraper Licker) who licked spoons whenever he could which cannot be considered hygienic.
Criminal number five was Pottaskefill (Pot Licker) and he would a lot of noise to create diversions so he could raid the kitchen undisturbed.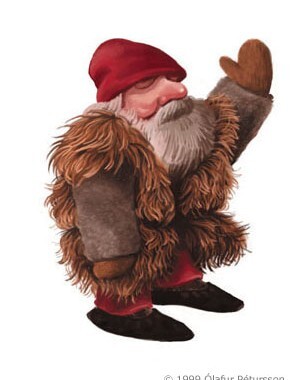 Number six was Askasleikir (Bowl Licker) and he specialized in stealing food from peoples personal bowls and dishes.
That brings us to number seven which is Hurðaskellir (Door Slammer). He would lurk around in the farms on dark December nights and slam doors and wake everybody up. What a nuisance.
Number eight was Skyrjarmur (Skyr Gobbler) who would break open barrels full of Skyr and basically go on a Skyr binge(!) What is skyr you ask? Well, it is a dairy product not unlike yogurt. Only a lot better of course.
Bjúgnakrækir (Sausage Snatcher) would steal sausages.
The sexual deviant in the bunch was Gluggagægir (Peeping Tom) and he would do what peeping toms do.
Number eleven was Gáttaþefur ( Doorway Sniffer) had an usually large nose.  This unpleasant fellow would use it to smell a kind of sweetbread called Laufabrauð. These are just wafer thin cakes decorated with carved images or patterns. These cakes originated in the northern part of Iceland and the reason for their thinness was the lack of wheat. People would make up for their meagerness by decorating them. I love those to bits, there is no Christmas without them.
The final two were Ketkrókur (Meat Hook) who stole meat stored away for Christmas and Kertasníkir (Candle Beggar) who stole candles from children. A hideous crime on Christmas night I think we can all agree.
Mending their ways

I mentioned earlier that these days the Yule lads are now considered the friends of children. One way this is demonstrated is the tradition of Icelandic children putting their shoe in the window. The Yule lads obligingly give them small presents and place it in the shoe overnight. Unless they have been naughty, of course, then they get a potato. Which is not a bad gift if you think about it. And Grýla, well, a popular Christmas songs maintains that she is long dead.
But that cat is still lurking out there.
All images are by the artist Ólafur Pétursson. 
The names and descriptions of the Yule lads is based on a poem by Jóhannes frá Kötlum.
Written by Jón Heiðar Þorsteinsson
Ready for a Road Trip in Iceland?
Support this blog by getting a great deal on renting a car from Budget.
Comments